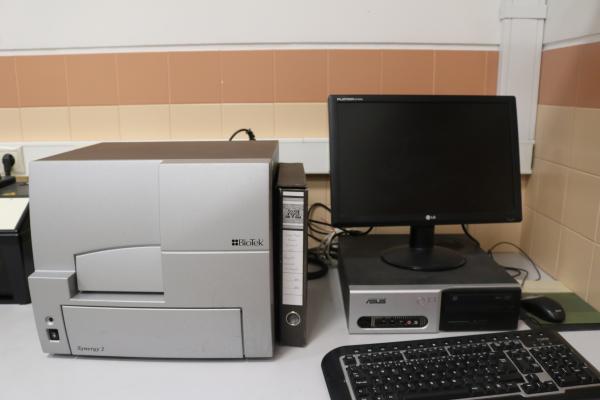 Descripton:
The Synergy 2 is a single-channel multi-mode microplate reader. It includes Fluorescence Intensity (FI), Fluorescence Polarization (FP), Luminescence (L) and UVvisible Absorbance (Abs). Synergy 2 uses a unique combination of monochromator, filters and dichroic mirrors. The reader is computer-controlled using BioTek's Gen5 PC software for all operations including data reduction and analysis. 
Applications:
This product may be used for In Vitro Diagnostic, research and development, or other non-clinical purposes.
Specifications:
Brand: Biotek
Model: Synergy 2
Components:
- 4-Zone™ temperature control - from 4°C over ambient to 50°C.
- Internal plate shaking - Low, Medium, High and Variable shaking speeds. Shake time is programmable by the user. 
- Microplates - 6-, 12-, 24-, 48-, 96-, 384-, and 1536-well microplates with 128 x 86 mm geometry, and the BioTek Take3 Multi-Volume Plate. (Note: 1536-well microplates are not supported for luminescence measurements)
- Light Source: 
- Absorbance: Xenon flash light source
- Fluorescence: Tungsten quartz halogen
- Filters:
- Excitation filters - 360/40; 485/20; 530/25; Plug
- Emission filters - 460/40; 528/20; 590/35; Hole
Software:
- Biotek's Gen 5