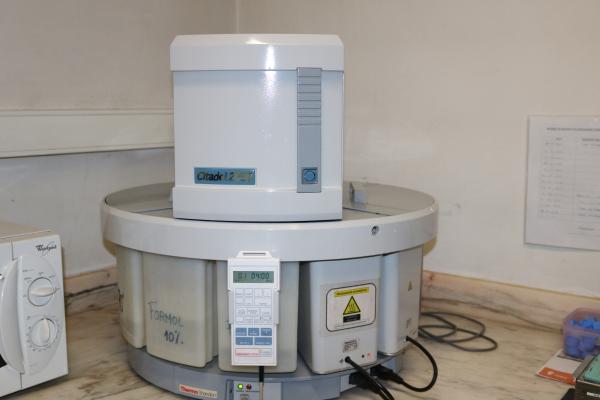 Description:
The Thermo Scientific Shandon Citadel series is a low cost, reliable and time-tested carousel type tissue processor with convenient touch key operation. By adjusting on most standard exhaust covers, the Citadel 2000 has 2000 cassettes with organized baskets.
Citadel 2000 allows reagent stations to be easily removed from the unit for refueling, and its charging station protects the basket from air when the baskets are lifted. Thermo Scientific fabric processors also feature a delayed start feature that can be programmed nine days in advance as well as a touch key controller for easy operation. The Citadel processor system memory can also hold up to four full programs.
Applications:
Preparation of tissues (biological samples) for paraffin embedding.
Specifications:
Brand: Thermo Shandon
Model: Citadel 2000
Features:
- Simple-to-use, handheld touch key controller
- 110-cassette capacity (Citadel 2000)
- Memory storage of up to four complete programs
- Ten reagent containers and two wax baths
- Random and organized baskets available
- Tissue baskets load and unload easily with hanger clips in the unit's hood